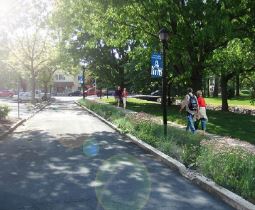 The Borough of Chambersburg is developing a Storm Sewer Utility Rate Structure and Credit Program with guidance from engineering consultant Herbert, Rowland & Grubic, Inc. (HRG). They were chosen by Town Council through a competitive Request for Proposal process to guide Council, staff and the community through a detailed planning and analysis process to change from the current $4 per month Storm Sewer Pollution Control Fee to a fee schedule based on lot impervious coverage along with a credit program to create incentives for property owners to reduce the amount of stormwater generated on their property.
Town Council appointed the Advisory Committee members below to provide guidance regarding preparation of the new program.
1. Carla Christian, Executive Director, YMCA
2. Alice Elia, Council Member
3. Tanya Nitterhouse, SunnyHill Properties, Inc.
4. Ken Adams, Business Manager, King Street Church
5. Herb Dolaway, Council Member
6. Mike Kalathas, The Orchards
7. Tim Murray, Director of Special Projects, Chambersburg Hospital
8. Edward Peters, Facility Operations Supervisor, Chambersburg Area School District
9. Phil Tarquino, Director of Planning, Franklin County
10. Jason Warrenfeltz, Director of Physical Plant, Wilson College
11. Bernie Washabaugh, Jr., Second State Enterprises
HRG will facilitate at least five meetings with the Committee to provide education about stormwater issues facing the Borough and to discuss current and increased levels of Storm Sewer System services, associated costs and methods for equitably allocating costs based upon benefits received. The forthcoming Storm Sewer Utility Rate Structure and Credit Program will affect all property owners in the Borough including those exempt from paying property taxes.
Committee meetings are held the third Tuesday of the month at 3:00 p.m. in Council Chambers on the first floor of the new Utility Departments Addition to Borough Hall. All meetings are open to the public so anyone with an interest in this topic is encouraged to attend. Comments from those attending the meetings will be considered by the Committee before making any final recommendations to Council; however, it is up to Council to make any final decisions regarding the program. Only once the Committee makes a recommendation on the program will Council consider final approval at a future public meeting.
February 19, 2019 Committee Meeting Materials
March 19, 2019 Committee Meeting Materials
April 16, 2019 Committee Meeting Materials
May 21, 2019 Committee Meeting Materials
June 18, 2019 Committee Meeting Materials
July 16, 2019 Committee Meeting Materials
August 20, 2019 Committee Meeting Materials
Public Meeting Minutes September 2019
More information can be obtained by contacting Andy Stottlemyer, Storm Sewer System Manager, at 717-251-2434 or astottlemyer@chambersburgpa.gov